Isabelle Wireless Pro Controller for Switch/Switch Lite,STOGA animal Series Controller
[Unique Puppy Design & Gift Ideas] 
[Turbo Button Funtion]
[Motion Control & Dual Shock]
[User-friendly and Fast Pairing]
[Ergonomic & Long Battery Time]
Description
STOGA Pro Controller – Compatible with the latest version of Switch/Switch Lite and supports all games.
Introducing the STOGA Pro Controller, a delightful alternative for Switch and Switch Lite controllers. The STOGA Isabelle switch controller is all about family playtime! Moreover, the STOGA switch controller is also designed for players that can start with a growing library of family-friendly games to make you learn and grow as a gamer. It is a good idea for family entertainment, parties and festival gifts.
The gamepad has two analogue sticks, an ergonomic non-slip mat and various buttons. included: NFC and one button wake-up function.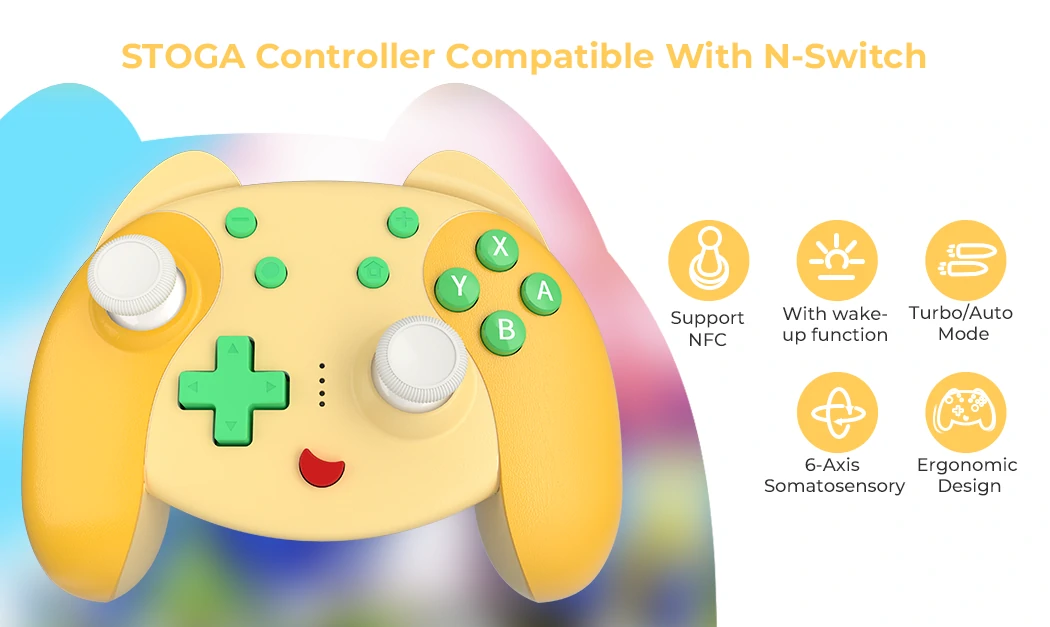 Simple and one-button quick pairing
Unlike other switch controllers on the market, the STOGA Cartoon puppy Switch Controller has developed a separate "ONE-KEY" connect button, so you don't have to press combination keys to pair your switch. But don't touch the joystick when using one-key direct reconnection.
Dual Motors & 6-Axis Somato Sensor
With the built-in 6-axis gyro, dual motors and turbo function, it is the best alternative switch control to play games.
Wireless and wired connection
This STOGA Isabelle controller supports the connection of Switch and Switch Lite in wireless or wired mode.
Comfortable to hold
The controller for Switch is suitable for players with small hands. Perfect for kids, girls, boys, women, men with small hands and so on.
Adjustable turbo function
The controller for Switch features an adjustable turbo function and 3 turbo speeds that make it easy to play arcade or action games.
If there are any questions, please feel free to contact us. STOGA service team will reach you within 24h.